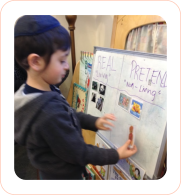 The Early Learning Center's teachers encourage children to develop an attitude of inquiry and respect for their natural and physical environment. Science is integrated and is integral to the daily life of the classroom. Children investigate, manipulate, discuss, record, and predict based on their observations on trips or their work in the classroom. They explore how living and nonliving organisms change over time, cause and effect relationships, and relationships between form and function.
Teachers use many strategies to support these explorations. In their study of living things, children grow plants from seed and keep simple records of their growth over time. They make trips around the neighborhood where they collect natural materials and gather data about seasonal changes.
In their classrooms, children have daily opportunities to discover the physical properties of the various materials they work with, such as sand, soil, water, blocks, paint, collage, clay, and wood. They use all their senses in their work with these open-ended sensorial materials, and learn how their efforts produce change and possibly a final product. In their dramatic play in the block area, they discover how changes in form and structure can affect the function of the play in their buildings. Chemical changes are experienced through the abundance of cooking in the classrooms. Children investigate and learn how to use simple tools, machines, batteries, bulbs, and magnets.