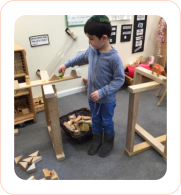 At
Chabad Early Learning Center
, we think learning is a passionate experience. We stress the importance of the process of learning and children come to the realization that often knowing how to find the answer or ask the question is more useful than the answer itself. We encourage children to try things for themselves, to explore and draw conclusions without fear of failure. We provide opportunities though which children come to value themselves, other people, ideas, skills, responsibilities, and hard work. We see children both as individuals and as members of a group. We encourage them to develop in their own ways. We want children to know the satisfaction and excitement of their own creativity and expertise and to know the shared joy and inspiration of the Group. We expect children to appreciate the unique qualities and contributions of themselves and others. The Early Learning Center & The Academy are places where:
Children are respected;
Children are active participants in their learning;
Children develop the skills necessary to pursue their love of learning;
Children are expected to become responsible members of their Group and the School community;
Children learn to recognize and accept strengths and weaknesses in themselves and others;
Children develop pride and excitement for Judaism and Israel through exploration of their rich heritage;
Children become lifelong learners.
The Early Learning Center
Social/Emotional:
Awareness to self in relation to the class.
Expression of emotions, ideas, needs, and desires.
Development of concentration, planning abilities, and attention span.
Respect for individual contributions and differences.
Group dynamics and democratic problem solving.
Physical:
Fine motor skill acquisition through regular use of clay, paint, sewing, puzzles, and other miscellaneous manipulatives.
Gross motor skill development through Music & Movement and daily outdoor and indoor play times.