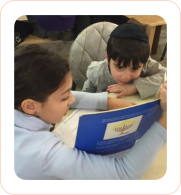 Jewish studies are intertwined across all curriculum areas. Students will have an Introduction to Torah concepts and vocabulary, chagim (holidays), months of the year, fundamentals of daily functioning, understand and love the mitzvot and customs that pertain to the yearly Jewish cycle. School events and special projects give families the opportunity to become involved and familiar with Jewish culture and traditions.
Shabbat: Shabbos parties are celebrated on Fridays to give the children the opportunity to experience the rich traditions of Shabbat. Challah baking is a weekly ritual that the children enjoy and look forward to taking home to share with their family.
Chagim/Holidays are explored through all centers in the classrooms. Through various art mediums and block play, the children represent the ideas and knowledge learned this enables them to make concrete connections to the concepts.
Tefillah/Prayer: Daily songs of Tefillah/prayers are sung every day. The children are introduced to the concept of Hashem/G-d and his presence everywhere.
Brachot/Blessings: The children say a bracha/blessing before they eat and drink. They become familiar with the blessings pertaining to the various holidays.
Mitzvot: Mitzvahs connect us to Hashem. Mitzvahs are concrete actions that are reminders to do good deeds. Children are encouraged to do mitzvahs and understand that acts of good kindness make their classroom space, school community, and the world at large a better place.