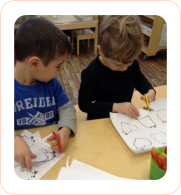 When you enter The Early Learning Center's classrooms, you see and hear the industrious sounds of children's active engagement with language and materials. Literacy is integrated and learned across the curricula, in conjunction with social studies, art, music, movement, science, and math. Picture books are prominently displayed and read in the various areas of the classroom and embody children's interests and ongoing investigations.
Over the span of Toddlers to Pre-Kindergarteners, we focus on the following goals:
Communication and expression about self, others, and the physical world.
Appreciation of other points of view.
Acquisition of a sense of story.
Making the connection between the spoken and the written word.
Interest in and use of symbolic representation (e.g., drawing, numbers, letters, sounds, print).
Toddlers - Nursery Program:
They have many opportunities to support speaking and listening abilities, such as, listening to stories read aloud, dictating messages and stories to the teachers, singing, rhyming games, labeling, writing recipes, experience charts, and block play.
Pre-Kindergarten Program:
The 4s are developing emergent literacy skills and print concepts in all areas of curriculum. They have a strong interest in books and enjoy looking at books sequentially from the front covers to the end. They learn visual tracking from left to right; they learn to recognize picture cues and patterns; and they predict what will happen next and share their understandings of the stories. They learn to identify and write the letters of the alphabet, both upper and lower case; they learn to read their names; they learn to read the names of other children in the class; and they develop phonemic awareness and a beginning understanding of symbol/sound correspondence, especially common consonant sounds. Children are eager to write signs and simple stories using invented spelling or using their beginning vocabulary of sight words.