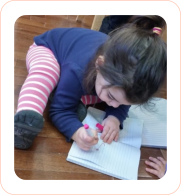 The Art Program actively engages children in using a wide variety of sensory materials to make and create things from. Children explore and discover each medium has unique potential for making personal meaning about the world, quite apart from what can be said in words. Using hands, eyes, and minds, children learn to express and communicate their ideas and feelings in concrete expressive forms.
Art is a vital part of the curriculum at The Early Learning Center for children of all ages. Through art, children can recreate and integrate curriculum experiences, including Language Arts, Judaic Studies, Science, and Math concepts. They create art in their classrooms or Art Studio where they share their wonderful ideas both visually and verbally. They learn to value their uniqueness as creative individuals and learn from and respect the diversity of other's artwork. We believe that all children have the potential to develop the competencies necessary to make objects and create images of their experiences.
Above all, the Art Program is concerned with personal and creative growth. As their mastery of tools and materials grow, children critically observe the emerging work and art becomes a self-discipline of the highest order.