A Message from the Director: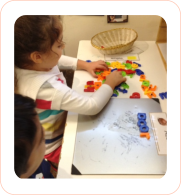 Chabad Early Learning Center is a place where young children receive an exciting, creative, and nurturing early learning experience. We provide children with the building blocks to grow educationally, socially, and spiritually.
Each child receives a well-rounded enriching education, filled with Torah and tradition intertwined with a wide array of secular academic subjects.
Please call our office 718-279-1457 to arrange a tour of our school today!
Sincerely yours,
Mrs. Dina Blesofsky Director, Chabad of Northeast Queens Early Learning Center
Non-Discrimination Policy
It is the policy of

Chabad Early Learning Center

not to discriminate on the basis of race, sex, color, religion, national origin, ancestry, or physical or mental disabilities unrelated to the ability to work or enjoy the benefits of the school's programs, facilities, or services. Admission to the school is based upon each student's academic records, personal interviews, observations by our faculty, parent essay questions, teacher recommendations and our admissions testing.